Can I Sue Over Bad Reviews of My Business?
July 14, 2022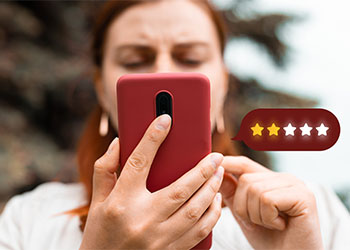 Word-of-mouth advertising has always been a make-or-break proposition for businesses. Now that customers are using digital channels to deliver their words, there is a proliferation of great and not-so-great reviews. A business does not need to have a website or social media channel to be reviewed. Customers have easy access to publish them on platforms such as Yelp and Google where a business has absolutely no control.
If you have delighted your customers and that is reflected in their reviews, it is good for business. However, if reviews are negative, they can do irreparable harm. It is wise to remain vigilant, regularly checking reviews wherever they may appear.
Any lawsuit is challenging under circumstances. If you want to explore pursuing one in Birmingham, or anywhere throughout Alabama or the Florida Panhandle, you can count on the business expertise and experience of attorney John Clark at Clark Law Firm PC.
What Laws Apply to Lawsuits Over Bad Reviews?
In response to businesses attempting to deny customers the right to voice their opinions in honest reviews, Congress passed the Consumer Review Fairness Act (CRFA) in 2017. The federal law makes it illegal for businesses to prohibit or restrict a consumer from reviewing the business when that consumer is party to a contract with that business. It also makes it illegal for business contracts to impose a penalty for a poor review and/or requires consumers to forfeit their intellectual property rights related to the review.
Currently, 32 states and the District of Columbia have Anti-SLAPP laws on their books. Florida is one of them. Alabama does not have an Anti-SLAPP statute.
"SLAPP" stands for "Strategic Lawsuits Against Public Participation." The laws expedite the ability of consumers to have meritless lawsuits filed against them dismissed by the courts. The laws would come into play if, for example, a business filed a lawsuit against a customer for a negative review that provides an honest opinion without evidence of defamation.
Regardless of these federal and state laws, businesses and individuals have a legal right to sue when they are victims of defamation.
What Is the Difference Between a
Bad Review and Defamation?
The plaintiff in a lawsuit must prove defamation to prevail in a lawsuit for a bad review. If a reviewer provides an honest albeit negative review, that legal bar is not met.
For example, a customer has dinner at a restaurant and posts a negative review later, saying the service was poor and the food was average. The customer is entitled to express an opinion based on their experience at the restaurant. However, if a customer who never dined at the restaurant posted the same review, that customer would be guilty of defamation because they stated opinions not based on personal experience. In other words, that person lied about their experience because they didn't have one. That review unfairly damages the reputation of the eating establishment and causes harm to it.
Libel and slander are two types of defamation. Slander is the oral delivery of a defamatory statement while libel is the written delivery of the same. Since reviews are usually written statements that appear online, most commercial lawsuits arise from libel rather than slander.
Should I Sue for a Bad Review?
If you believe a poor review rises to the level of defamation and that it has harmed your business, you should consult with a business attorney who handles business litigation. There are cases where filing a lawsuit can draw even greater attention to a bad review, so it is wise to explore your options. Asking the reviewer to take down the review might be the better route, although you may need your attorney to help you build a case and make the request.
Research regarding the tremendous importance reviews has in informing consumer purchasing decisions certainly indicates that you should not take bad reviews lightly. A 2022 ReviewTrackers report that 94% of those surveyed reported that a poor online review convinced them to not buy from the business reviewed.
The legal bar is high in defamation litigation; however, the consequences of a poor review are as well. If your lawsuit has merit and there is evidence of defamation, you should pursue commercial litigation for the sake of your company.
Seek Legal Guidance from Clark Law Firm PC
John Clark holds degrees in business administration and in banking and finance. As an attorney, he runs a business. As a business litigation attorney, he fights for commercial clients in Birmingham, throughout the state of Alabama, and in the Florida Panhandle whose reputations have been harmed by defamatory reviews. If you believe your business has been unfairly harmed, call Clark Law Firm PC now.